About us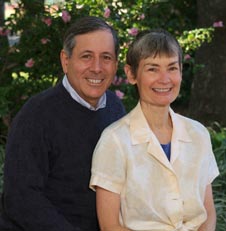 Dr. Allen Dubner, D.C. and Dr. Sharon Dubner, D.C. received Doctorates in Chiropractic in 1984 and 1986 respectively from Palmer College of Chiropractic-West. They have dedicated their lives to help the sick and suffering to heal naturally and lead full vibrant lives without the use of unnecessary drugs or surgery.
The doctors continue to take studies in natural health methods. In addition to the required 12 hours of continuing education each year, they each voluntarily pursue many additional studies in gentle natural health techniques.
With over 23 years in practice this husband and wife team serves the Silicon Valley with state of the art care at Dubner Family Chiropractic Center located in San Jose, California.
All of their care is totally gentle with gentle pressure along the spine and/or rubbing of specific pressure points. There are absolutely NO forcing, twisting movements, or cracking sounds with their methods.
Dr. Allen and Dr. Sharon have done extensive post graduate studies in a number of powerful totally gentle health restorative techniques. At each of your visits they will choose the right combination of these techniques that will be best for your health restoration.