Wednesday, September 9th, 2015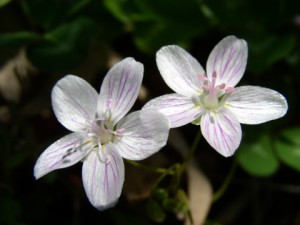 I began my healing journey about one year before discovering the Dubners. After my second child, my daughter, was born, I spiraled into depression and anxiety. I had buried my memories of trauma from sexual abuse as a young teen by a teacher, but the emotional wall I had built was finally beginning to crack under the pressure of having a second baby. Every diaper change sent me into a flashback, I had visions of my teacher coming back to stalk me, and I frequently had panic attacks that I was poisoning myself with food.
On my thirtieth birthday, I decided to commit myself to healing.  I found a psychologist and psychiatrist and found out that I was experiencing post-traumatic stress disorder (PTSD). I attended individual therapy.  I found a month-long anxiety and depression support group, and a 3-month long PTSD support group. I began regular yoga and mindfulness practices. Still I wasn't feeling better, and I finally took my doctor's suggestion to begin antidepressants.
Zoloft helped numb the pain I was feeling, and it did buffer me a little from the terrible shock of my father's untimely death, hit by a car while crossing the street.  As I was grieving, the months dragged on.
I still wasn't feeling that elusive state of wellness that I thought might theoretically exist.  My body was getting sluggish and I had to eat cookies and bars of chocolate each day to get through the hours. The thought of removing sugar from my diet sent me into a panic. What's more, my back began to hurt in such a crippling way that I could barely get in and out of bed, much less pick up or play with my kids.  Desperate for a solution, I heard a trusted friend mention the Dubner's, and I called within the next thirty minutes to make my first appointment.
Over the last several months, I have had so many breakthroughs and miracles with Dr. Sharon and Dr. Allen, I can't believe it.  With Dr. Allen's gentle chiropractic techniques, my back pain is almost gone and I feel light and loose on my feet in a way that I haven't remembered feeling since childhood.  The elimination diet was a challenge, but with Dr. Sharon's support I made it through, and pounds have fallen off my body effortlessly and I never needed to count calories or go to sleep hungry.
I credit a lot to Dr. Sharon's acupressure techniques, because my psychiatrist and I decided that I was doing so well I could go off Zoloft, and as a result of doing so I feel better and more authentic than I could have imagined.  Finally, working with Dr. Sharon with the Bach Flowers has been amazingly healing for me.  I have been on a long road to health, and perhaps all of the steps I took were necessary to chip away at these old walls, but I feel like the progress in my mental and emotional well-being that I have made with Dr. Sharon is at least, if not more, effective as many of the psychological methods I have used.
I have brought my children to the Dubner's and I recommend their practice to every friend I talk to.  I am amazed at how Dr. Sharon and Dr. Allen's practice has helped me to heal, trust myself, and become whole again.
Thank you Dr. Sharon and Dr. Allen!
M.M.