Knee Pain, Low Back Pain, Shoulder Pain, Digestive Problems, Weight loss, and High Blood Pressure Success Story Through Cupertino Chiropractor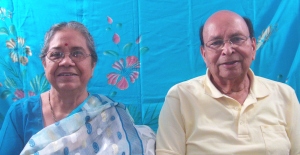 We, Surendra Srivastava, and spouse, Nirmala Srivastava, have been to US on a holiday trip from India since July 2014. We are staying with our son and family at Cupertino, CA. We had not been able to enjoy the trip due to severe knee joints pain and other related health issues. During our stay, our close family friend, based on their experience, suggested us to consult Dr. Allen Dubner, and Dr. Sharon Dubner.
We met with the Dubners on July 17, 2014. After preliminary checkup, consultation, and investigation, our treatment commenced on July 18, 2014. We also attended two lectures by the Dubners on network chiropractic and health. We completed 24 sessions with Dr. Sharon Dubner and 30 sessions with Dr. Allen Dubner.  We would like to share our experience and observations.
Dr. Sharon, customized a "Food Plan" for us. We followed the food plan strictly, which benefited us.
Dr. Sharon possesses spiritual powers, and the movement of her magical fingers on the body provided 'POSITIVE ENERGY' to both, mind and body. One feels completely relaxed and stress free.
Dr. Allen Dubner with his gentle manipulation of spine & nerves, and followed by mild exercises recedes the pains. With the initial itself, we started getting relief.
Earlier, before the treatment by Dubners, we have tried conventional and modern medicines, but the issues persisted. Surprisingly, we have not taken any joint pain pills and pain killers since we started treatment with the Dubners.
We are able to negotiate staircase better and also able to walk longer distance than before.
Our digestive system has improved and constipation is almost eliminated.
Standard weight has been maintained and blood pressure is under control. In the case of my spouse, Nirmala, she was able to lose a few pounds weight.
Mental and physical stress is lessened.
We want to express our appreciation and gratitude for providing us dedicated & honest services in healing our miseries. We consider Dubner Family Practice as 'The Temple of Humanity'. While you enter the premises, you are greeted by the gracious lady Shannon with a sweet smile. The celestial sound of music fills the mind and body. Then you meet Dr. Sharon Dubner, 'THE ANGEL' with her 'DIVINE MAGICAL TOUCH', and Dr. Allen Dubner, 'THE MESSIAH' with his 'GENTLE TOUCH', both of who cures the mind and body.  They have adopted the established principles of the Medical Testament – "I TREAT, HE CURES". Hence one comes to their abode with 'painful tears' and return back with 'smiling cheers'.
Surendra Srivastava and Nirmala Srivastava
Tags: Back Pain, Blood Pressure, Digestive Problems, Knee Pain, Shoulder Pain, Weight Loss