Michelle Cusick: Strong immune system through chiropractic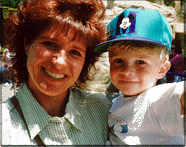 Chiropractic care has brought me much more energy, a must for a single mom! Since receiving Chiropractic, my son and I are rarely sick. While his daycare buddies are constantly fighting ear infections and flu, my son has never even had one ear infection. Every parent should have their children checked regularly by Dr. Allen and Dr. Sharon.
Thank you Dubner Family Chiropractic Center!
Michelle Cusick, mom of Colum Cusick, age 3