Jenifer Ortbal: Patient at Cupertino chiropractic asthma, allergies and breathing improved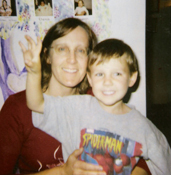 We came to see the Dubners after many frustrating months of traditional medical care for my son, Jacob. For many months he had severe nasal congestion, wheezing cough, and he could hardly hear because of so much fluid in his ears. He had been breathing inhalers and was on his third type of antibiotic. He was also prescribed a nasal inhaler, which he never used because we decided to try some alternative care. After two and a half months of care by Dr. Allen and Dr. Sharon, Jacob is no longer congested or dripping. His coughing and wheezing are completely gone, and his hearing seems to be totally normal (and of course, he is no longer on medications). We are continuing his care. In conjunction with the Dubner's work, we also consulted with a Naturopathic Doctor who was very helpful as well. Our whole family is receiving care by Dr. Allen as well! It is great!!
Thank you Dr. Allen and Dr. Sharon! 
Jenifer Ortbal, mother of Jacob Ortbal