Bhat Family: Cupertino Chiropractic Jaw Pain(TMJ), Sleep Problem, Headache, Shoulder Pain, PMS & Foot Problems Success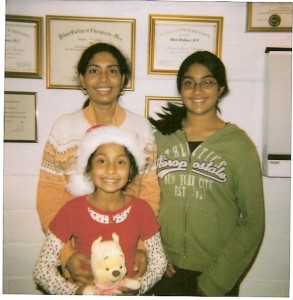 I decided to start treatment for my TMJ. I had been suffering with TMJ problems for four years. I first went to the Orthodontist, then to a TMJ specialist at Stanford for almost a year. Since seeing the specialist, he gave me a mouth splint. Wearing the splint at the beginning was ok but with time it would wake me up in the middle of the night and make tension in my shoulder and neck. Since I started treatment with Dr. Allen, I now only wear the splint 30% of the time and I am able to sleep through the night with no problems. Also, all the pain in my neck and shoulder is gone too. In addition to my TMJ problem going away, I was amazed that my severe headaches with my menstrual cycle are totally gone. The headaches were so bad it would make it difficult to take care of my family. When I started the treatment, I also had my daughters start too.
Both of my daughters had suffered from foot problems. Anjali, my oldest, had flat feet and because of this her feet hurt a lot. Ananya, my eight year old daughter, had pointed feet. She had a hard time running. Since their treatment with Dr. Allen they both are feeling better. Their posture is better and are able to run faster and longer. They are both thrilled that their feet are better and so happy with what Dr. Allen and Dr. Sharon have done for them.
We are all amazed on how much we have improved over the short period of time we have been seeing the doctors. We feel with the doctor's adjustments and the talks about living a natural and healthy life that we are on the right path of living a better life. And as my daughters Ananya and Anjali say, "I believe that anyone who comes in this center won't leave without ringing the miracle bell".
Vathsala Bhat (mother), Anjali Bhat (12 yrs.) Ananya Bhat (8 yrs.)