Your visit
What To Expect on Your First Visit

When You Arrive...
You can expect to be greeted with respect and courtesy by our conscientious and helpful staff.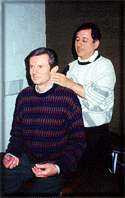 Patient History

You will be asked to complete a few forms so that you can accurately share with the Doctor your current state of health and your health goals.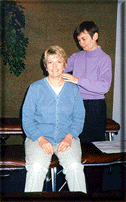 Doctor Consultation...

Dr. Sharon or Dr. Allen will sit one on one with you and get to hear from you in detail about your health concerns. Based on the deep understanding that is gained about your health concerns and health goals, the doctor will be able to determine which type of evaluation and examination procedures will benefit your specific needs.

The doctor will give you an overview of the gentle techniques that they use in the office so that you can feel totally comfortable and informed about the gentle methods they use when caring for patients.
You will be invited to ask any and all questions of the doctor.
Examination
Dr. Sharon or Dr. Allen will do a gentle hands-on examination of your spine and nervous system that will include over 90 tests concerning posture, spinal alignment, neurologic factors, muscle tension, range of motion and flexibility.
The doctors will use a state of the art computerized evaluation called a Surface EMG (electromyography). This is a totally gentle non-invasive surface scan test that measures how your nervous system is "talking" to your muscles and the rest of your body.
Click here for more detailed information on the surface EMG.
Please allow for 1 hour and 15 minutes for the consultation and exam.
The next step after the consultation & exam is the report of findings, where the doctor will sit one on one with you and discuss the findings of the tests that were completed and their recommendations to you for your improved health.